Categories:
* Daily employment news, ** HR Trends in Recruitment,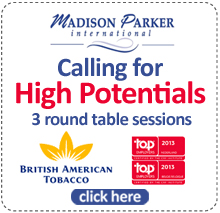 CALLING ALL HIGH POTENTIALS!
For an elitegroup of candidates, we will be hosting 3 round table focus groups to discuss current trends and changes in secondary benefits, social media, targeting the right employers and general labour market conditions. As a high potential candidate, your input is invaluable to us and we would like to invite you to this niche event.
If you would like your views and opinions to count whilst acquainting yourself with an award winning employer in The Netherlands, this is your unique opportunity.
We will be holding 3 separate events for varying career levels, so if you feel you match the following criteria, we would love you to attend:
• Master's degree;
• International employment exposure;
• Ambitious, driven and passionate about development;
• Marketing and Sales career path.
In return we will be offering you the chance to meet with fellow professionals, get to know a top employer where future possibilities of employment are strong whilst at the same time enjoying a few hours of good social interaction in the company of your peers and company representatives.
Refreshments will be provided in addition to a small corporate information pack to take home and read at your leisure.
Sessions will start at 5pm and conclude around 7pm, with plenty of opportunity to mingle with the HR team, the MPI recruitment team and your fellow peers.
Scheduled dates are;
Wednesday 4th July – High potentials with 2-4 years of work experience

Wednesday 31stJuly – Middle management candidates mainly within the FMCG sector

Thursday 1st August – Senior Management with over 10 years of experience.


For more information on these events or to register your participation please contact Rachel Wardle, Recruitment Services Manager at rachel@madisonparker.nl or call on 070 3875911.
Spaces are limited, so please contact us quickly to confirm your interest.
www.madisonparker.nl
and
www.bat.com
- working in partnership to channel high potential candidates into the most rewarding careers.