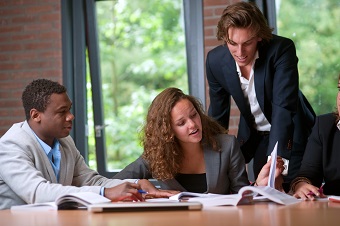 Nyenrode Business Universiteit has redesigned its full-time International MBA program around a set of six essential business practices in an effort to move away from the traditional set up of MBA programs which provide isolated courses.
According to Christo Nel, Program Director of the International MBA,
"Business isn't run as separate courses but as a set of integrated real-life practices. It is our commitment to run a degree program which prepares people for business. To do so, the content needs to be as close to this reality as possible. The restructure of our program reflects what students and employers want to receive from an MBA."
The new program focuses on teaching core business skills that reflect the demands of business and management. It enables students to master these skills by working with companies on real-time business projects.
To structure the new program, Nyenrode conducted research into what business education should consist of and what it should deliver, by reviewing a wide range of programs around the world, and conducting focus groups with their own students and alumni.
Alda Shabanaj, an alumna of the International MBA and Customer Service Manager at SABIC says,
"The redesign of the program offers the opportunity for participants to shape themselves in a practical way, by providing real life business exposure in the environment of some of the most prestigious multinational companies."
The redesign of the program involves:
- A renewed focus on essential business practices instead of separate traditional courses. The integrated business practices revolve around topics such as Information, Innovation & Digitalization and Strategy, Markets, Globalization and Competitiveness, amongst others.
- Up to 30% reduction in time spent in lectures which will provide opportunity for more in-company projects and a focus on personal leadership development.
- Significant increase in 'work-based learning' opportunities for students .
- Regular 'Meet the CEO' sessions designed to connect students with heads of industry.
- Personal leadership development training and coaching compound of an extensive series of courses and activities that are intertwined in the program and last for the entire duration of the MBA.
Time spent in the classroom will also become more collaborative, with faculty acting as education advisors rather than education providers and facilitating discussions in a multidisciplinary setting.
The changes to the International MBA will be introduced over a three-year period from October 2015. The deadline for applications for the program starting in 2015 is August 15th.
For further information, please visit: www.neyenrode.nl For more information about the programme , or to speak with Christo Nel please contact Kerry Gill at BlueSky PR - +44(0)1582 790701 or via email –
kerry@bluesky-pr.com
Nyenrode Business Universiteit is the only private university in the Netherlands. Nyenrode was created for and by business in 1946 and it strives at creating the next generation of sustainable leaders and entrepreneurs. In 2015, Nyenrode has been chosen as the Best University in the Netherlands according to the National Student Survey.