Categories:
Business news, Education news,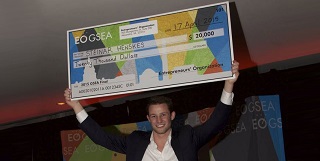 A
Vrije Universiteit
student, Steinar Henskes, has won the Entrepreneurs' Organization's (EO) Global Student Entrepreneur Awards (GSEA) with his company that provides animal friendly-lasers to keep birds at a safe distance from dangerous areas.
The organisation said that he competed against 2,000 students from 38 countries in a series of national and international contests. On Saturday 18 April 2015, Henskes was awarded the $20,000 prize to support his entrepreneurial journey. "What an unbelievable journey to not only start a business as a student, but to win the Global Student Entrepreneur Awards, it's a dream come true," commented the CEO of Bird Control Group on its website.
Henskes founded his company in 2012 and has already expanded to 52 countries, with installations at airports such as in Amsterdam Schiphol and London. The initiative is recognised by the World Wildlife Fund (WWF) for animal friendliness and innovation.
By C. Maiko Schnelle