Categories:
* Daily employment news, ** HR daily news,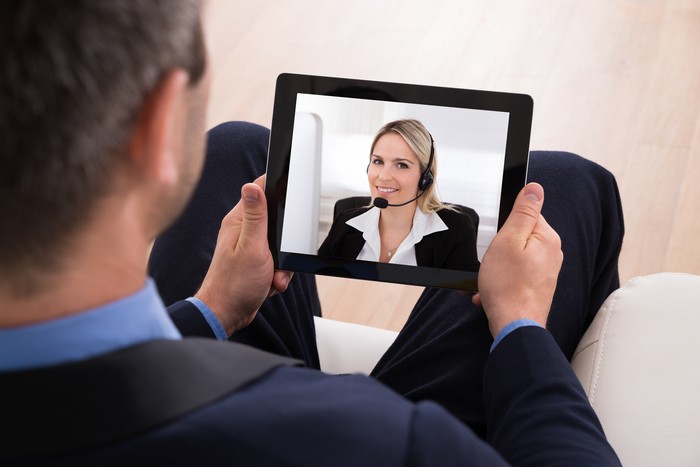 Working in 2021: what will that look like?
Because of the coronapandemic, our way of working looks completely different than it did a year ago. But to what extent are these changes permanent? If corona is on its way out, what will working in 2021 look like? Will we all go back to the office or will working from home be here to stay? And what will the workplace of the future look like? We outline 2021 in six trends and developments in working.
1. We will continue to work at home (in part)
Last summer, the KiM (Netherlands Institute for Transport Policy Analysis) conducted a major study. It showed that 45 percent of the people who started working more from home during the corona crisis expect to continue doing so (partially) in 2021 and in the future. Currently, about 48 percent of working people work (partially) at home.
Advantages of working at home are the reduced travel time, leaving more time for other things: you can take the children to school at your leisure, sleep in a little longer or go to the gym first. Many people are also more productive at home, which means that
working from home
also offers many advantages for employers.
2. We're going to optimize our home office
When we suddenly had to work at home because of the corona crisis, almost everyone assumed that these measures were only temporary. Those without a separate office mainly spent their "office hours" at the kitchen table or at an improvised desk in the attic, next to the washing machine. Because working from home will remain the trend in 2021, it pays to invest in a better workspace at home.
Employers can respond to this by ensuring that their staff have access to an ergonomic office chair, an extra monitor and other necessary equipment at home. Guest rooms and attics will be transformed into real work rooms with good lighting, heating and ventilation. Even the garden shed can be transformed into a "work oasis".
3. Further digitalization of the workplace

Zoom and Microsoft Teams are now fully established for meetings and presentations. A trend we will see more and more in 2021 is the use of digital brainstorming tools. Many companies were already working in the cloud even before the corona crisis, so they could switch to working from home fairly easily. For other companies, it was necessary to expand the number of servers in order to offer home workers sufficient capacity.
One issue that currently needs particular attention is the
security of online homeworking
. The ICT infrastructure at the office is usually well secured, but this leaves much to be desired at home. For example, a VPN connection can provide additional protection against hackers, but the importance of a good password and any two-step verification should not be underestimated either. Employers are well advised to invest in online security and to have a clear policy on the subject.
4. The office remains important
2021 does not mean the end of the office. As a place to work and meet, the office will continue to play an important role. Unlike at home, it is easier to network and maintain social contacts with colleagues at the office. After all, you meet each other at the coffee machine or in the elevator. These informal chats are very important for a pleasant working atmosphere. The office offers more variety than the home office and the face-to-face interaction with colleagues allows creative ideas to surface more quickly.
Although a large proportion of employees are positive about working from home, this is not true of everyone. KiM's research shows that 36 percent of the homeworkers surveyed experienced a poorer work-life balance. Also, 17 percent had physical and 10 percent psychological complaints. Not all employees can concentrate well at home. At home, the distinction between work and private life is sometimes lost, while at the office this distinction is much clearer. The high productivity that working at home provides in the short term can in the longer term possibly lead to absenteeism because people become overworked.
5. The new, hybrid working
In 2021, we will see more and more companies combining working from home with working at the office. KiM's research shows that 60 percent of home workers expect to work from home one to two days a week in the future. Less than 10 percent expect to spend more than 25 hours per week in the home office.
In the ideal scenario, the best of both worlds is combined, with plenty of individual freedom for employees. After all, some are more productive at home, while others thrive better in an office environment. Several companies are already responding to this.
6. The future: working on the move?
Digital nomads have known it for a long time: if a good Internet connection is all you need to get your work done, you might as well start working in an exotic location instead of at home. We will probably be able to travel abroad again in the course of 2021, and no doubt many home workers have been playing with the idea in recent months that they could actually do their work from Thailand or Mexico.

Even before corona there were companies that gave (some of) their employees the freedom to work wherever they wanted and after corona this trend will only continue. In more and more countries the Internet is of excellent quality. You can also find co-working offices in more and more places, where you can rent a workspace in a professional office environment. Working in Bali, for example, means that you can surf in the morning, then go to work full of energy and climb volcanoes or take trips to other islands at the weekend. You enjoy a high quality of life and in many destinations the cost of living is lower than in the Netherlands.

Working in 2021: what will that look like?
January 19, 2021
Author: KPN / Read the article on the KPN website