Categories:
* Daily employment news, Education news, Tips for internationals,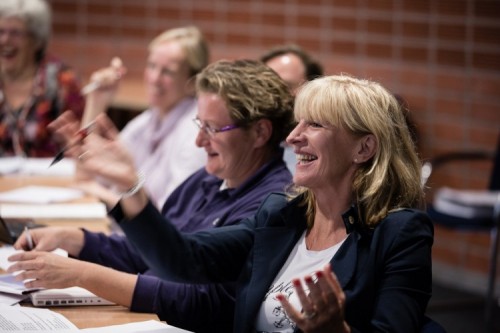 Nyenrode takes organizations to the next stage of organization development during Summer Journey.
Nyenrode takes organizations to the next stage of organization development during
Summer Journey
.
The next generation of organizations or teal organizations releases entrepreneurship forces to realise a given purpose. It is based on new form of leadership based on the stage of human consciousness. This program is therefore a good match with Nyenrode as Nyenrode's values are Leadership, Entrepreneurship and Stewardship.
In July, Nyenrode is organizing a week long
summer journey
to investigate how pioneer organizations are paving the way for the next generation of organization development, and to support participants in their own reinventing quest.
The reinventing quest
Survey after survey
shows that a majority of employees feel disengaged from their organizations. They suffer from power games, bureaucracy and a never-ending succession of change programs. They experience a gap between their strengths, passions and opportunities. Deep inside, employees long for soulful workplaces, for authenticity, passion, and purpose.
Liberated enterprises
A number of organizations have managed to achieve this liberation or so called 'teal' development, which represents the next stage of human consciousness. They are regarded as the next generation of organizations with happy and engaged employees. Example of these companies include
Patagonia
(a worldwide recognized company designing outdoor clothing and gear),
Buurtzorg
(a Dutch Home Care Delivery Organization) or
Voys
(a leading telecommunication operators). Liberated enterprises implement decentralized and distributed power structures and mechanisms that emphasized trust and transparency. They experience life without manager. They reconcile all part of oneself to be true to one's calling and passion. Profoundly, liberated enterprises follows their evolutionary purpose to realize their vision.
Summer journey
Targeting employees from all sectors in a managerial position, the
"
Liberated Enterprises
"
summer journey includes a week in July on campus at Nyenrode, during which the participants through intensive training, master classes, workshops, and peer coaching will take themselves and their organization on a journey to the next stage of organization development. The week will be followed-up by peer coaching. Along side teal leadership development, the journey will investigate the three pillars of liberation: self organization, wholeness and evolutionary purpose. It will highlight practical self-organization implementation solutions and will walk through the HR practices that allows safe and open working environments that ultimately favor happy and engaged employees. Ultimately, it will dive into the "sense/adapt" growth process of these organizations following their purpose and how strategy, planning or budgeting are implemented.
Would you like to receive more information?
Download the brochure
or contact our program manager via 0346 291001 or
teal@nyenrode.nl