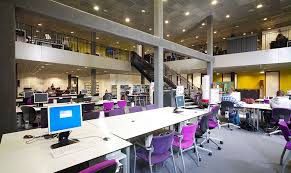 Universities of Applied Sciences in the Netherlands
The programs offered by Universities of Applied Sciences ('Hogescholen') focus on the practical application of knowledge. Acquiring work experience through internships is an integral part of professional study programs. The Netherlands has 45 government-funded Universities of Applied Sciences. The largest institute enroll between 20,000 to 39,000 students. Altogether some 365,000 students are enrolled on professional programs.
» Master (M): 1–2 years
» Bachelor (B): 4 years
Below universities of Applied Science in the Hague area:
The Hague University of Professional Education

The Hague University has a critical part to play in the future success of The Netherlands. More than 19,000 students come from over 100 different nationalities can chose for a master or bachelor studie
INHolland University of Applied Sciences The Hague
INHolland University of Applied Sciences Small Business & Retail Management (SBRM) marketing, business studies, management, business economics, entrepreneurial law, retail management, communication skills, ICT and foreign languages.

Rotterdam University of Applied Sciences
Rotterdam University of Applied Sciences is the result of a merger between 19 institutions for higher professional education . In 2002 another merger took place between Rotterdam University and HES Rotterdam, an international business school. They offer
International Business and Management Studies programmes in economics.

Hogeschool Leiden University of Applied Sciences
Hogeschool Leiden offers Bachelor & Master Programmes, Postgraduate Programmes, Associate Degree Programmes and trainings in five faculties: Faculty of Health, Social Work and Applied Psychology, Education, Management & Business and Faculty of Technology.

INHolland University of Applied Sciences Delft
INHolland university of Applied Science Delft, you will become part of an innovative educational environment together with 1500 other students. Dealing with issues that are crucial to society, there are three knowledge centers: Business & Management, Landscape & Environment Management and Horticulture.

Codarts, University of Professional Arts Education
Codarts, University for the Arts – a small-scale professional university which offers high-quality arts education.The education at Codarts is provided by the Rotterdam Conservatoire (music), the Rotterdam Dance Academy (music) and Rotterdam Circus Arts (circus). Codarts has about 1,100 students, with 60 nationalities.

Royal Academy of Fine Arts, Music and Dance
The Royal Academy of Arts (KABK) is a fascinating and inspiring community of upcoming artists and designers.

Hotelschool International University of Hospitality Management The Hague
Hotelschool The Hague was founded in 1929 by HORECAF, the employers' organisation in the hotel and catering industry.