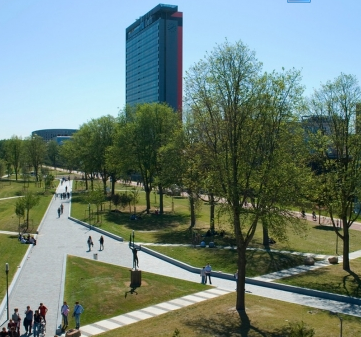 Campus of Delft University of Technology
TU Delft has risen to 42nd place in the global reputation ranking list of universities, the World Reputation Rankings of Times Higher Education magazine. Last year, the university stood at a shared 51st-60th place. With the new ranking, TU Delft is now the highest ranked Dutch university and the third highest European university of technology. Three other Dutch universities are ranked in this top 100.Services
Competition
TU Delft President Dirk Jan van den Berg is delighted with this new ranking: "A great reputation is important for staying attractive to talented students and researchers from all over the world, and also for procuring funding, which leads to increasing competition between researchers for research funds from, for example, Europe. We will have to make an enormous effort to keep this great ranking in this rapidly changing world in the next 20 years or more."
Inspiring
At the same time, Dirk Jan van den Berg is careful to place the value of such 'lists' in perspective. "There are a number of rankings, and compiling these kinds of tables is not an exact science. Much depends on the manner in which you do this and who sends back the completed surveys. But such tables do inspire you to keep working on your performance and to continue to invest in order to maintain the strong position of Dutch universities in the future. Moreover, these tables are a wonderful compliment to all researchers and students whose work forms the basis of the university's reputation."
Reputation
The Reputation Rankings are based on the reputation of the teaching and research at universities among academics worldwide. Academics from more than 150 countries complete written surveys as part of the polling process. More than 10,000 of them completed the survey. They were asked to indicate which universities they rate the best in their own specialist area.
The Netherlands
With four universities in the Top 100, the Netherlands is in sixth place in the country list. Phil Baty, the editor of the Times Higher Education Rankings, has this to say about it: "The Netherlands continue to perform well in the ranking; even though the country is less than half the size of Canada, for example, it has more universities in the Top 100."
World University Rankings
The general ranking appeared in October: Times Higher Education World University Rankings 2013-14. In this ranking, TU Delft rose from 77 in 2012 to 69. TU Delft has now attained second place in the Netherlands, only two places below Leiden University on the list. The data on which this reputation ranking is based was also used by Times Higher Education to calculate the indicators of this general ranking list.
For more information, visit the website of the
Times Higher Education World Reputation Rankings.
Source
WFIA