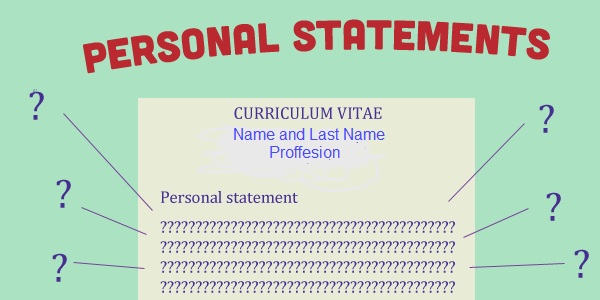 A personal statement is usually the first thing on your CV, meant to highlight your best qualities and achievements, and – ultimately – get your CV onto the "yes" pile. It is important that you tailor the personal statement for each different job position you apply for. One CV does not fit all. Therefore, when crafting it, pay close attention to what the recruiter is looking for. Read the advertisement closely so that you can highlight the appropriate traits. However, be careful not to resign to mindlessly copying the requirements listed in the ad.
Avoid clichés and vague terms. While it may be truthful and tempting to do, to state that you are an "enthusiastic and dedicated team player with experience in customer service" says –in fact – nothing about you except that you have experience in customer service, which lots of people have. Words like "dedicated" and "team player" are on most CV's that go through recruiter's hands, so you need to give them something different. Think about it – if every applicant lists the same qualities, then no one gains a competitive advantage from doing so.
Similarly, you should try to put your customer service experience in context, like which sector or industry is it related to. You might also want to mention how your communication skills have been used effectively, and how your problem solving skills helped retain customers. This will make your personal statement much more effective and more individual, so the recruiter will be able to identify with you as a real person rather than just reading a series of statements.
When choosing which information to include in your personal statement, remember to keep it real. Remember that everything you put in the personal statement needs to be backed up by the rest of your CV. For example, if you have spent all your time working on your own, there is no point claiming that you work well in a team. Also, do not overstate your expertise level, like saying that you are highly experienced in your field, while the only experience you have has been gained through your internships. On the other hand, do not understate your experience either. You should try to find the balance between sounding too overbearing and not selling yourself effectively.
As you can see, creating your personal statement is probably the hardest part of your CV, because it requires the most time and thought. Leaving it until last is a good idea, as you will then have a clearer appreciation of your skills and capabilities while working through the CV. And if you are still struggling with it, you can consider seeking the services of professionals who will create a personal statement for you. However strange this may sound to you, sometimes it takes an independent observer to recognise the strong points you do not think you have.
Veronika Bacova