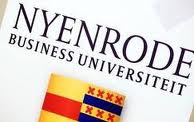 A MBA in the Netherlands. Which MBA should I pursue?

7 steps to make the right choice
By Javier Arias

At a certain point in your career path, you may wonder whether pursuing an MBA is the next step. Nowadays, exploring MBA opportunities can be very overwhelming due to the large number of programs and formats that are offered. Accreditations, rankings, location, costs and return on investment are amongst the elements that play a role in your decision.
At Nyenrode Business Universiteit, we have identified somekey steps for you to find the right MBA:

1. Is an MBA really the right choice?
You will face a reality check the moment you bump into thousands of different programs. Traditional MBAs, specialized MBAs, Masters of Science, Masters of Arts are amongst the options that you will encounter as you look for management related studies. Explore different types of programs and find the one that suits you the best. In case you decide that an MBA is the right option for you, look into the different formats and decide whether you will like to pursue a full-time, part-time or modular one.

2. Where and why?
The time to make one of the most difficult decisions has come, should I pursue an MBA in my home country or should I get immersed inan unexplored context by following an MBA abroad? This decision is key to continue with your search. You should look into details such as the economy and culture of the country, career opportunities after graduation, language, immigration policies and – you can not forget – the social aspects of the country. If you decide to move to another country, the investment has to pay off from a personal, academic and professional perspective.

3. Your new home away from home
Deciding about a University is much more complicated than just looking at the rankings. An MBA is a tough and time consuming investment. Thus, finding a the right university requires patience as you need to find the perfect match. It is important to know the reputation of the university within the country and abroad together with its accreditations and philosophy. You need to feel at ease with the universitysince it will become your new home away from home.

4. Money talks
Remember to look into your finances when defining the right MBA and the right university. It is important for you to consider living costs, immigration process costs, tuition fees and even the 'having fun' costs. Many universities offer different scholarship opportunities. Do your homework and find out about the different ways to finance your MBA.

5. You are not alone
Before, during and after the MBA, you will experience a rollercoaster of emotions as the pressure to deliver piles up. Remember to involve people around you in this process. Your family, friends, peers and colleagues can be a source of inspiration for you to enroll in the right program. You might even face the opportunity of being sponsored by your company during your MBA.

6. Clear all your doubts
There is no better way to clear your doubts than by talking to the right people. Get in contact with the recruiters, admission officers and program team members so that they can answer all your questions regarding the MBA and the university.

7. Get the real feeling!
There are always feelings involved when it comes to making your final decision. It is key that you experience the university and the program by visiting them, talking to current students, professors and alumni. The online environment can give you an idea of each institution. However, the best way for you to get the real feeling is to experience the student life yourself.

At Nyenrode, we understand the importance of experiencing the program in your decision-making process. Thus, we offer remarkable potential students the opportunity to visit us for an entire weekend as our guests all-inclusive and interact with the different members of our institution. Visit Nyenrode website for more information.

Copywrite Javier Arias