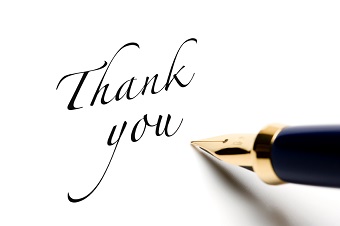 Job search experts say that many jobseekers believe that once they step out of the office the interview is over, but that is simply not the case.
Writing a thank you note or email after an interview is not just part of formality but can be that extra key to getting a job offer. However, experts say that only 20% of candidates take the time to send a thank you note to their hiring managers or recruiters.
Sending a thank you email is not only courteous -- thanking a recruiter for giving you an opportunity to speak with them, but it can also reflect on your interest in the position. Furthermore, the thank you email can also be a perfect way to clarify any doubts that were not clearly answered. Make sure to ask for the recruiter's business card at the end of the interview in order to send the thank you note.
Here are some tips on how to write a successful thank you note.
• Always include the following:
- The hiring manager's or recruiter's name
- Name of the position
- Mention specific details about the interview
- Your interest in this position
- Give appreciation for their time
- Your contact information
• Do not write a thank you note ahead of time, make sure it is an honest, genuine, personal note
• A thank you email should be sent within the first 24 hours of the interview
• Avoid using a telephone call or SMS as a method of sending the message
• Check your message to ensure there are no spelling mistakes before sending
• If interviewed by several people, send a thank you message to each person
• Be brief and to the point
Even if you do not get the job, sending a thank you email or message will leave a good impression with the hiring manager and can keep doors open for future endeavours.
By Marguerite Hodge