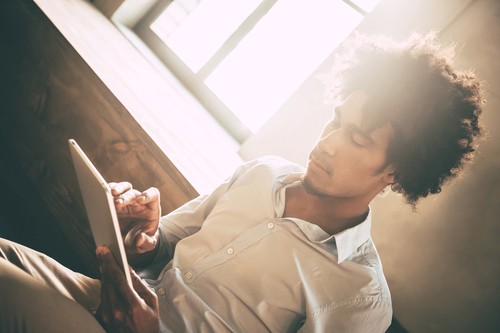 Why the tightness is not caused by the ageing of the population
The ageing population is often blamed for the current shortage. But is that really true, wonders Geert-Jan Waasdorp. Ageing is part of the explanation, but certainly not the cause. But what is?
Why the shortage is not due to an ageing population
When looking for an explanation for the current personnel shortages, people often mention the ageing population. This argument comes up again and again. And I don't know how often you see a security guard or hospitality worker aged 50-plus (or even older), but ageing is certainly not an issue when it comes to staff shortages in agriculture, retail, logistics, hospitality or security. Maybe ageing is a small part of the cause of the shortage, but certainly not the cause.
Of all starters in healthcare, 43% leave the sector (disappointed) within 2 years.
Ageing has a much larger effect in, for example, education, government and healthcare. But here too, I would venture the theory that ageing is not the primary cause of personnel shortages. Of all the starters in the care sector, for example, 43% leave the sector (disappointed) within two years. Also within education, the turnover of young people is very high. Retaining this talent makes the shortages in both healthcare and education disappear like snow in the sun. Here, the lack of retention is the cause of the shortage. And not the ageing population.
Old explanations
The big problem now is that we cannot measure what is happening on the labour market. So we fall back on 'old and familiar' explanations. I would therefore venture to say that labour shortages are not a certainty for the next 30 years. With the first serious headwind, some form of normalisation will certainly occur. And if a few tax rules are adjusted so that 'working more' actually pays off, both financially and in terms of the housing market, for example, this will go even further. Let alone if the recommendations of the Borstlap Commission are implemented.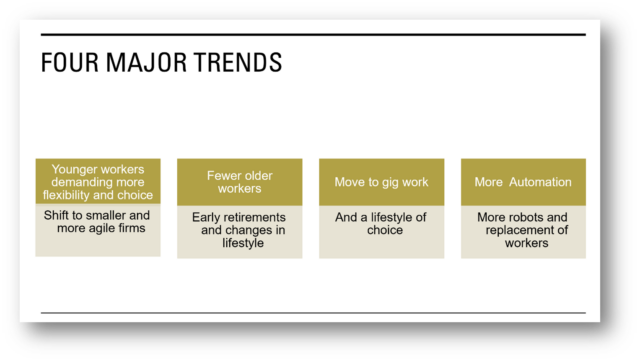 Source: Kevin Wheeler, Future of Talent 2022.
The big problem in the current labour market lies on the supply side. Not so much that the people are not there. There are, and even more than ever. The big problem, however, is that all those current people are providing much less economic supply because of:
#1. Little labour market activity
There is currently a historically little movement in the labour market. Very few people are actively looking for jobs and vacancies, so there is no supply to meet demand. With more movement and job changes, there would be a healthier dynamic in the labour market.
#2. Less productive because of WFH
Some of the world's largest employers, who have their HR Analytics in good order, want people back in the office. They stop WFH (work from home) as much as possible. In fact, they reduce salaries if people continue to work from home - and this in a period of great scarcity. Main reason: loss of productivity. A large group of homeworkers find it difficult to cope with the opulence of flexibility and working from home. But not physically collaborating also reduces output, creativity and realization power.
#3. Minimalism at Work
Where in the 90s it was hip to brag about how many hours you worked, and where working hard was the norm that equated to career advancement and ambition, today things are different. For young people and young adults, in particular, it is important to work a minimum and live a maximum. Life>work. Working fewer hours is preferred. The lack of perspective on the housing market or the scarcity of savings reinforces this trend. As a result, there is much less supply of people - but especially of hours - on the labour market.
#4. FIRE or WL
Financial Independent Retire Early, or Work Less. A worldwide development, which also gets a foothold in the Netherlands. Strongly driven by Covid and the capital that has been built up by the (absurdly high) house prices, people stop working earlier or start working less and enjoy their 'old age' more. For many homeowners, living is more profitable than working. Tens of thousands of people in Amsterdam, for example, have sold their house dearly (or rented it out), and have gone to live 'in the provinces' or abroad. They live off the surplus value or the rental income, or they have to work less.
#5. Transition to self-employment
There is also less supply of salaried jobs because the economic and labour market situation invites to become self-employed. Whether or not partly in combination with paid employment. This group is not lost to the labour market, but it does influence the supply, the decreasing dynamics of the remaining supply and thus increases the feeling of scarcity.
As a self-employed person, you can earn the money you need to live maximally in even fewer hours.
Gig work', whether or not via platforms, reinforces the individualisation of the labour market (and employee empowerment) and reinforces the trend toward minimalism in work. As a self-employed person, you can earn the money you need to live life to the full in even fewer hours. 
Reports in a drawer 
These and a few other developments explain the current labour shortage more than the ageing of the population itself. Think about: automation, digitalisation, flexibilisation and internationalisation. The Netherlands is losing many labour migrants because of poor working conditions (remember the Poland hotel?) and poor employment conditions. 
Attracting even more labour migrants is like fighting a running battle. 
Attracting even more labour migrants is tantamount to wringing all the stops. It only increases the problems instead of tackling them. Not only the Bostlap Committee has said many sensible things about this, but also the Roemer Committee with regard to the protection of more labour migrants. Why are those reports lying in a drawer? 
Higher minimum wage 
And it is quite extraordinary that employers and employees want to raise the minimum wage to 14 euros (which in fact should already be higher, because inflation is now much higher), but the government is currently blocking this? Incidentally, a higher minimum wage would not necessarily increase the volume of supply, as people also need to have more to spare and work should pay. There must also be prospects on the housing market. If these two are lacking, there is a chance that a higher minimum wage would actually boost the 'minimisation' trend further. 
In short ... ageing is not the reason for the staff shortages. 
In short ... ageing is not the only reason for labour shortages. There are other trends that have a much larger effect, but that we cannot or hardly measure because they are new. And you can't manage what you don't measure...


Source
Geert-Jan Waasdorp Entrepreneur and investor at Intelligence Group, Academie voor Arbeidsmarktcommunicatie, Werf&, Arbeidsmarktkansen, Recruitment Accelerator and Recruiteverywhere.com, among others.