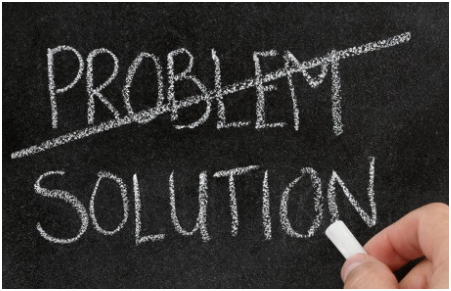 Problems arise on a regular basis in both work and life, and employers want employees who know how to rise to the challenge and deal with problems calmly and effectively. For the best employees, every problem has a solution and no obstacle is insurmountable.
To show your prospective employer your can-do attitude, you want to demonstrate that your approach to problem-solving is calm, rational and objective. Explain that your approach is to break down a problem into its component parts so you can see the main issues and exactly what needs to be done. You then do research if required and brainstorm possible solutions, both alone and with others. If appropriate, you assemble the necessary team. You organise yourself, set yourself a strategy and schedule, and tackle the problem straight away instead of procrastinating. You're resourceful and resilient, and not afraid to be creative and innovative in your approach. For you, there are only challenges, not problems.
Most importantly, you need to demonstrate all these claims with a concrete example from your past professional or personal life. Outline the nature of the problem, how you approached and assessed it, what actions you took and the result of your actions – in other words, how you overcame the problem.
If you really want to impress your interviewer, cite an example of how, through your foresight and initiative, you were able to anticipate and prevent a potential problem before it arose. In other words, you are proactive rather than merely reactive, and you always look ahead and do your best to cover all the bases.
With this approach, you can't go wrong. Your interviewer is sure to be convinced that you've got the right stuff to be an indispensable member of their team.
Source: Josie Chun