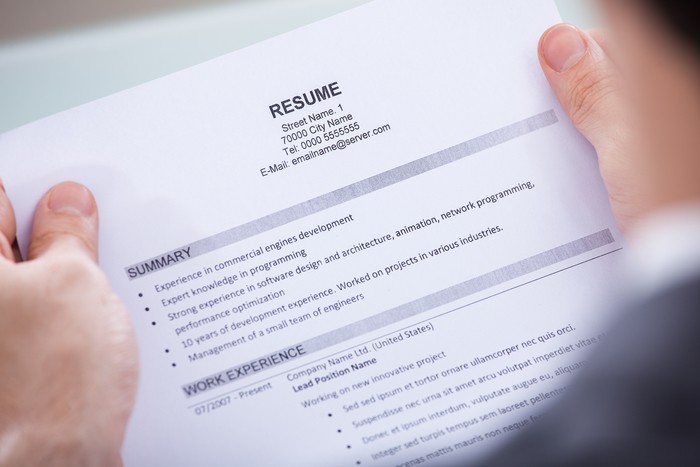 Creating your personal brand entails combining who you are and what you want to promote, in order to attract recruiters' attention and build your reputation. Whether it is online through social or professional platforms, or in conferences and interviews, you should try to tailor your personal brand depending on the context and the person, by highlighting your strongest skills and characteristics. Let us now see in more details how to build a successful personal brand that recruiters will be unable to resist.
1. CV/Résumé
Your CV/Résumé is usually the first thing that recruiters encounter, which represents your personal brand. Try to have a simple, to the point, and coherent CV, with phrases that will catch their eye, representing your skills as best as you can, as well as using terms that relate to the specific job you have applied for. Each sector and industry desires a specific format and content, so it is advised to do thorough research on the demands of your sector, either by finding relevant articles or asking other professionals in your field for tips. However, keep in mind that recruiters spend on average five to seven seconds looking at each CV. Thus, make sure that within that time they will have sufficient evidence concerning your personal brand and your skills, so as to take your application into further account.
2. LinkedIn

Nowadays, companies and recruiters usually ask to provide them also with a link to your LinkedIn profile, which includes your professional self that is sometimes even more detailed than in the CV. LinkedIn requests not to describe your life story, but to point out your strong skills and professional experiences. Use the right trigger words that connect with each job and that will market you efficiently, depending on the company and the image you want to sell. Pay attention to your visual identity, by including a professional photo as well as constructing a structured and coherent profile.
Try to fill every section provided by the platform, including education and professional experience, but also certificates, skills, languages, as well as causes you care about. Having filled every section with relevant and outstanding information will show the recruiter your personal brand and your capability of promoting it properly and professionally.
Additionally, it is suggested to be highly careful with whom to connect, preferably selecting members that could potentially help you during your career. Besides, do not forget that even your circle of connections is part of your personal brand. The stronger the contacts you have, the stronger your personal brand becomes. For example, do not be afraid to send invitations to connect with CEOs, Directors and HR managers, accompanied by an introductory note about yourself. As such, when you apply for a job, the recruiter sees that you have strong connections, which are an advantage that could make them have a more thorough look at your profile and competencies.
3. Social Networks & Personal Website

On top of that, it is common that recruiters and potential employers pay attention not only to your professional online persona, but also to the personal one, in order to create a complete image about you, starting from your photos, and ending to your posts and comments. Find ways to produce value and be purposeful on what you do online. For example, demonstrate that you are an active person that likes traveling and other hobbies, but also sensitive about social matters, as well as being aware of the global political and economic issues. However, be careful about your online actions and how you share your thoughts on social media, as is well known that in some cases people's online actions were the reason they lost their job or an opportunity.
Going a step further, except for being properly active in personal and professional social networks, it is advised to have a personal website as well, which will be your customized personal brand and story. There, you will put the same and maybe more details about yourself and your skills than in your résumé or LinkedIn profile, and you also have the opportunity and freedom to set it up exactly as you like to promote your personal brand in the best possible way. Furthermore, whether you change professional paths or have an update in your career, do not forget to reinvent and continuously revise your personal brand.
4. Interviews & Meet-ups
Finally, as aforementioned, the personal brand is not only an online essentiality, but also a necessity in the physical world. When attending conferences and meet ups, it is a perfect opportunity to sell yourself to other professionals face-to-face, by highlighting your best achievements, as well as any common characteristics and experiences you share with them. Likewise, when you are called for a job interview, it is the ultimate chance to promote your personal brand. In both occasions, it is advised to always keep a contact, by sending a follow up mail or note, pointing out once again your strongest competencies and thanking them for their time.
Recapping, when building and promoting your personal brand either with your résumé, LinkedIn, personal profile or through interpersonal relations, you should be very focused and specific. Try to adapt as many practices as suggested above, and your chances to attract recruiters will be significantly raised. Besides, the only reason to create and develop your personal brand is for your own benefit.
Myrto Koulama