Company profile
The Expatcenter opened in June 2008 and was one of the first schemes of its kind in the Netherlands to cut the red tape for internationals and assist in the process of settling in.

After a successful few years, the Expatcenter still has its sights set on expanding services and building bridges for Amsterdam's international community.

The cities of Amsterdam, Amstelveen, Almere and Haarlemmermeer, together with the Immigration and Naturalisation Services (IND), have joined forces to create the Expatcenter. The Expatcenter, situated in the World Trade Center in Amsterdam Zuid, provides a one-stop-shop service for highly-skilled migrants.

Successful venture
The Expatcenter provides a one-stop-shop service for international companies and their highly skilled migrant employees. The Expatcenter is a joint initiative of the cities of Amsterdam, Amstelveen, Almere and Haarlemmermeer, along with the Immigration and Naturalisation Service (IND).

The Amsterdam Expatcenter was the first of its kind in the Netherlands, and was created to better meet the needs of international companies in the Amsterdam area. Since its opening in 2008, the center has proved to be very successful with over 850 international companies making use of the streamlined procedures and more than 10,000 expats have visited the office at the WTC for registration.

The collective efforts have paid off; in a recent survey, companies ranked the services provided by the Expatcenter at 8.7 out of 10. This is a notable improvement from the 5 out of 10 ranking given to the former procedure.

Simplifying the process
The Expatcenter procedure allows employers to initiate the registration for a residence permit prior to their new employee's arrival in the country. The advantage is that it allows highly skilled migrants (and their family members) to complete several important formalities in a single visit to the Expatcenter.

Expats are now able, in one appointment, to collect their residence permit and simultaneously complete the necessary registration with their municipality. As a result, they will also receive their citizen service number (BSN), allowing them to open a Dutch bank account, amongst other things. A beschikking (early IND approval) is also available for companies who would like their expat employees to start working within 2.5 weeks of their arrival.

The Expatcenter also provides services for EU citizens. All EU citizens working for a participating company of the IND's highly skilled migrant ruling can visit the Expatcenter for their municipal registration. The Expatcenter can also provide vignettes (verklaring van inschrijving voor burger van de unie) if needed.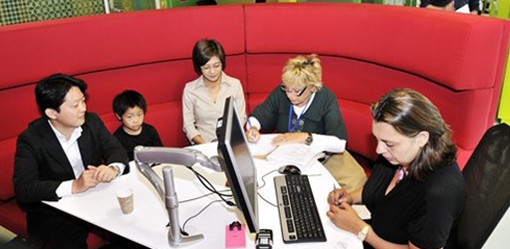 Our services
The Expatcenter procedure

Application for the Expatcenter's highly-skilled migrant procedure

The 30% ruling via the Expatcenter
As of April 2011, applications for the 30% ruling can be made as part of the Expatcenter procedure.
Our story
Our approach
Our team
News
Interview
Locations and directions
Testimonials
Company profile
Expat Services:
Expat Desks
Address
Address:
WTC Amsterdam D tower, second floor Strawinskylaan 39