Company profile
Michael Page has grown over the last three decades to become one of the world's leading recruitment companies. We are specialised in the placement of candidates in permanent, contract, temporary and interim positions with clients around the world. You can find our offices in the UK, Continental Europe, Asia-Pacific and the Americas. Our consultants are specialised in the areas of Finance (including Banking), Accounting, Marketing, Retail, Sales, Legal, Technology, Human Resources and Engineering.

In the Netherlands we focus on the areas Finance, Banking & Financial Services, Consultancy & Projectmanagement, Sales & Marketing, Information Technology, Legal, Tax, Engineering & Manufacturing, Human Resources, Procurement & Supply Chain, Public Sector and Healthcare & Life Sciences.

On September 30, 2012 the Michael Page Group operated through 164 offices in 34 countries with a headcount of 5.255.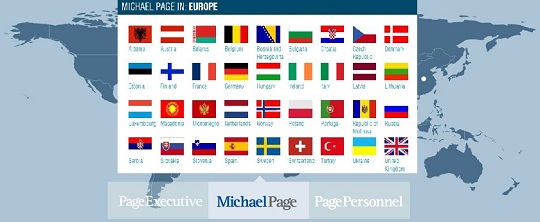 Our services
Our divisions:

Finance Banking & Financial Services
Legal
Tax
Engineering & Manufacturing
Executive (+100k)
Sales & Marketing
Information Technology
Public Sector
Human Resources
Procurement & Supply Chain
Healthcare & Life Sciences

Michael Page is a specialist business. Not only do we operate exclusively in recruitment, but each business unit within the Group specialises in recruiting for discrete specialisms. By employing experienced consultants from each specialism and focusing our operations, we can provide a range of additional benefits:
- A tailor-made service.
- Knowledge of your industry and your market sector.
- Experience of the prevailing external environment.
Our story
Our approach
Our team
Company film
News
Interview
Locations and directions
Michael Page Amsterdam

Banking & Financial Services - Consultancy & Projectmanagement -Engineering & Manufacturing - Finance - Healthcare & Life Sciences - Human Resources - Information Technology - Legal - Public Sector - Procurement & Supply Chain - Sales & Marketing - Tax

World Trade Center
Strawinskylaan 421
1077 XX Amsterdam
Tel. +31 (0)20 - 578 9444
Fax.+31(0)20 - 578 9440


Michael Page Breda
Banking & Financial Services - Consultancy & Projectmanagement - Engineering & Manufacturing - Finance - Healthcare & Life Sciences - Human Resources - Information Technology - Legal - Public Sector - Procurement & Supply Chain - Sales & Marketing - Tax

Marksingel 2A
4811 NV Breda
Tel: +31 (0)76 - 7999010
Fax: +31 (0)76 - 7999039


Michael Page Eindhoven
Banking & Financial Services - Consultancy & Projectmanagement - Engineering & Manufacturing - Finance - Healthcare & Life Sciences - Human Resources - Information Technology - Legal - Public Sector - Procurement & Supply Chain - Sales & Marketing - Tax

Bogert 11
5612 LX Eindhoven
Tel. +31 (0)40 - 243 3735
Fax.+31(0)40 - 243 7310

Michael Page Rotterdam
Banking & Financial Services - Consultancy & Projectmanagement -Engineering & Manufacturing - Finance - Healthcare & Life Sciences - Human Resources - Information Technology - Legal - Public Sector - Procurement & Supply Chain - Property & Construction - Sales & Marketing - Tax

"Weena 200"
Weena 238 - 240
9th floor, Tower C
3012 NJ Rotterdam
Tel. +31 (0)10 - 217 6565
Fax +31 (0)10 - 217 6560

Michael Page Utrecht
Banking & Financial Services - Consultancy & Projectmanagement - Finance - Healthcare & Life Sciences - Human Resources - Information Technology - Legal - Public Sector - Procurement & Supply Chain - Sales & Marketing - Tax

Herculesplein 20
3584 AA Utrecht
Tel. +31 (0)30 - 799 9040
Fax.+31 (0)30 - 799 9041
Testimonials
Company profile