Company profile
Teleperformance, the worldwide leading provider of outstanding customer experience at every single opportunity, has been serving companies around the world, providing superior results in managing their customer care, technical support and debt collection operations. In 2012, the Teleperformance Group achieved €2.347 billion revenues (US$3.018 billion - Using 2012 average exchange rate of 1€= 1,286 USD).
The Group operates about 100,000 computerized workstations, with more than 138,000 employees across 270 contact centers in 46 countries and conducts programs in more than 66 different languages and dialects on behalf of major international companies operating in various industries.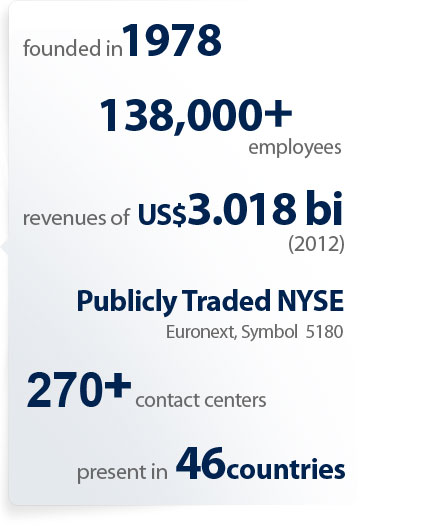 Our services
TRANSFORMING PASSION
INTO EXCELLENCE

This is a place where we believe in people.
Where teamwork wins.

This is a place where we work for people.
That's how we put commitment into practice.

This is the company that inspires. To learn, to teach, to grow. To get
things done.

This is the company that motivates.
Being happy to make a difference.

This is the real thing: your business is our business.
Together, we build the best partnership to perform. We have the knowledge and
resources to deliver outstanding customer experience, all over the
world.
This is Teleperformance!

Our story
Our Values


Cosmos | INTEGRITY
I say what I do & I do what I say

Earth | RESPECT
I treat others with kindness and empathy

Metal | PROFESSIONALISM
I do things right the very first time

Air | INNOVATION
I create & improve

Fire | COMMITMENT
I´m passionate & engaged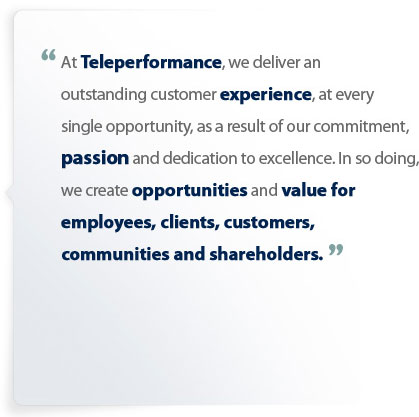 Our approach
Our team
News
Interview
Locations and directions
Testimonials
Company profile