Company profile
In 1986, a small recruitment agency called Job-In opened its doors in The Hague.
As a pioneer in recruitment of professional staff with diverse language skills, it soon flourished and became a well-known name in the area. Before long, Job-In opened offices in Rotterdam and Amsterdam, two locations that were screaming for expertise in the international recruitment field. In 1996 (?) USG People, then known as United Services Netherlands.
In 2002, the Utrecht office was opened, and in 2007 the Eindhoven office followed. Although there are many competitors in the market nowadays, but we are proud to say that we are the market leader.

TODAY

Unique Multilingual is more than just a temporary employment agency. We assist a fast-growing number of companies to implement their HR policies with the aid of for example workshops, practical pocket manuals and tailored solutions.

Our candidates can depend on Unique Multilingual for the perfect match, career guidance and assistance and advice concerning living and working in the Netherlands.

Unique Multilingual is a part of Unique Nederland B.V.; the largest specialist in the Netherlands for the recruitment and selection of permanent and temporary office personnel at the level of upper secondary vocational education, higher professional education and university education. Unique specialises in filling administrative, commercial, financial and secretarial staffing requirements.

Unique Multilingual is 24/7 accessible, committed and employs driven Consultants, who are Multilinguals with experience abroad themselves. Click here to meet the team.

Unique Multilingual offices are located in Amsterdam, Utrecht, The Hague, Rotterdam and Eindhoven.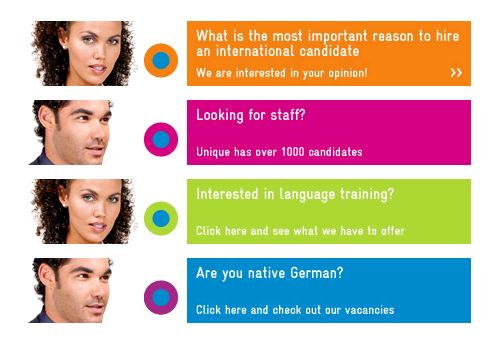 Our services
As an agency, Unique Multilingual offers various employment possibilities.
We are specialised in office vacancies in a variety of sectors, and the companies we work with all have in common that English is their official language. Find out more about the services and benefits we have to offer by selecting the topics below.

Temporary staffing
We mostly offer long-term positions, however during the first 3 to 6 months of employment you will have a Temporary Employment agreement with our agency (uitzenden). After that, our client will offer you a contract directly.
This type of service is also used by companies when they have temporary projects, or need someone as a permanent member of staff is temporarily away and needs to be replaced. When you are placed at a company via temporary staffing Unique Multilingual is your official employer. Benefits of this type of contract are:

It can be a stepping stone to a permanent position
It can open doors to a new career path in for instance another sector
Sometimes flexible staffing contracts are the only way to obtain a position with certain multinational companies.


Contract Staffing
Another option when working through an agency is Contract Staffing (detacheren). Here too, Unique Multilingual is your employer, however this time you have a limited term contract with a start and end date. You are assured a monthly income and work. If the project finishes before the estimated end date or if there is no match with the company after all, Unique Multilingual will find you another assignment.
Direct Recruitment
Furthermore we offer Direct Recruitment services for companies. The company will offer you a contract directly and will therefore be your official employer. But of course we will still remain in touch to make sure you are happy and successful in the job we helped you find.
Training possibilities
We offer everyone working through our agency the possibility to follow a language course or an intercultural communication training. We work with certified external language institutions who offer tailor-made courses, based on your current language level and the level you would like to reach. Before your training starts, you will do an online assessment based on which a personal trainer will decide what the training will consist of. We offer course in Dutch, French, German and Business English.
We also offer group training sessions in intercultural communication, which will help you in gaining a better understanding of business habits in different cultures. For example, what are the difficulties for a French person while working in the Netherlands in a team of international colleagues with a German boss?



How do we guarantee quality?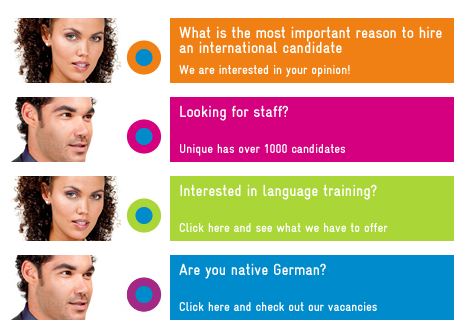 Our story
MISSION STATEMENT

Unique Multilingual's mission is to provide services tailored to our international clients' ambitions to realize and build a profitable and long-lasting alliance with new personnel.
With more than 25 years of experience, we are able to provide inspiration and consultation to our clients and candidates to make the right match between candidate and vacancy. By using our elaborated network within the Netherlands and Europe, Unique Multilingual constantly strives to realize a sustainable mediation between client, consultant and candidate.

Our Core Values are Personal, Progressive, Expertise, Stylish and Committed.

Do you have a recruitment challenge? Hand it over to us.
Our approach
Our team
Company film
News
Interview
Unique Nederland, as part of USG People, has different substructures, one of which is Unique Multilingual (UML). What is the specific place and focus of UML within the larger company?

S.C.: Unique Multilingual is, within Unique Nederland, the team of specialists in multilingual recruitment of office personnel for companies of various sizes. By multilingual, we mean non Dutch speakers, therefore native speakers of other languages, or Dutch natives who speak English and a third language.
The team at UML is itself composed of internationals with a total of 11 different nationalities, people who are either expats in Holland, or Dutch with an international background. And we love working with internationals. In fact, we created a day to thank our internationals for being here, a UML International Day on November 22nd.

How would you describe the current trends on the employment market in The Netherlands?
S.C.: We can confirm the current times are not the best, yet, if you compare it with the Dutch employment market, we can say the international market is doing better, with some regional differences.
K.B.: The trends on the current employment market are not just the Dutch ones, they are linked to other economies. If one economy is doing well, a current example being Germany, then the companies working with that market will also do well. As a result, there is a wider range of jobs within companies which deal with those other countries, which may account for the better current situation of the international employment market.
S.C.: What we also notice lately is that it has also become difficult to find very good candidates. This is a result of companies from all the regions asking for those candidates who are fluent in combinations of languages which include German or French. The high request leads to scarcity of those specifically skilled candidates.
K.B.: When facing difficulties with the developments on the market, we keep creative, using social media, or relying on our network.

UML has locations in Utrecht, Amsterdam, Eindhoven, Rotterdam and The Hague. How does UML operate according to these regions?
S.C.: All these markets are continuously changing, so it is difficult to point out the differences. Still, the market in The Hague is, we notice, slightly bigger than in Utrecht or Eindhoven. The job profiles also differ per region, with Brabant hosting companies which work with the Benelux, and therefore look for candidates who speak, for instance, Dutch, English, and French. The profiles of the companies vary as well. In The Hague we find more governmental institutions, whilst in Amsterdam and Eindhoven, a lot of shared service centers are active.

What is the profile of the UML candidate? Where is he/from, what is his/her level of education and experience, and what are his/her goals?
K.B.: We receive applications from all kinds of candidates. It is the type of position that will attract a certain candidate profile. On average though, most candidates are European, yet we also get all types of nationalities from outside the EU. Those last candidates need a work permit or are married with a Dutch person and live here as expats, falling under spouse employment. Within the EU, of course, there is flexibility when it comes to working, so Europeans move fairly easily.
S.C.: In addition, most candidates are highly educated. Work experience is also important. As a starter though, it can be difficult to find positions, because there is a lot of competition on the recruitment market right now.

How did this profile evolve during UML's years of activity, also in relation to the job profile?
K.B.: Since I began working in our office in The Hague, in 2009, with the financial crisis settling in, I noticed a switch in the companies' approach towards us presenting them candidates. Whereas before we could introduce a candidate based on his/her soft skills, namely personality, now we see the hard criteria, the concrete background of the person, weighing more. The leading tool in recruitment now is the CV. Further, nowadays, social media skills are important, and working with the internet. Specialists, people with specific experience, or knowledge migrants, are also advantaged compared to candidates who can fill a support position.
S.C.: In fact, multi-tasking in general is a desired skill in our society, as is the technical experience. Even if needing to be aware of their budget, companies need to develop and continue to innovate so as not to be left behind, which is where the IT or technical aspects come into place.

Except recruitment, what further assistance do you offer internationals?
S.C.: We offer candidates, as well as our employees, an intercultural communication training. Working in a team of various nationalities, it is very important to be able to communicate successfully, being aware of the cultural differences.
K.B.: Furthermore, we look at and test the skills of a candidate and, if necessary, we can offer language or IT-related trainings to increase the chances on the job market.
S.C.: Finally, we offer assistance with living in The Netherlands, trying to basically show candidates around, and explain, for example, how to get a BSN number, how the tax system works and so on.

On your clients' side, what reasons are most common when deciding to hire an international candidate?
K.B.: The work languages represent the main reason. Yet, what is also of importance is that a company has an international culture or environment itself. Our team here at UML is an example of that.
S.C.: Indeed, it is the language, but it can happen that, once got to know an international work environment, you don't want to go back. There is so much to learn from other cultures, from each other, there is openness and acceptance within the teams, and I consider that a strength.

Do some companies have preconceived ideas about certain internationals, for example from less developed countries?
S.C.: We do not see that at all, actually. Our clients have an international profile themselves, so they appreciate different cultures. We are here to find the best candidate, that is about the skills, and not the nationality, and we wouldn't work with a company that would be discriminative in any way.
K.B.: The cultural differences can be worked out, for example, in the case of the more emotional, or temperamental nationalities faced with the Dutch directness, down-to-earth attitude.

What are the languages which attract most interest for employers? Are the big European languages still the most interesting, or do you notice changes in your clients' approach?
S.C.: There are some language combinations which are regularly asked for by our clients, specifically Dutch-English-French or Dutch-English-German, all three on a fluent level.
K.B.: It happens rarely that we receive calls for Arabic, Indian, or Asian languages, for example, and those rare occasions are usually projects. It is then necessary to take time and search well in order to find the right candidates, as they need a work permit.

How do you evaluate the career growth opportunities for internationals in The Netherlands?
K.B.: When it comes to career growth here in Holland, I don't think there is a difference between the Dutch and the internationals. The possibilities to grow within a company are equal if a person has a good background and ambition. It is always great when candidates come back to us after, let's say, five years of working, and we see how much they've evolved in their careers.

Finally, Do you have any tips for internationals seeking work in The Netherlands?
S.C.: To get you started, it sometimes is a good idea to take on work which is not exactly what you had in mind. It is a way to gain experience, which will help with future applications, and it will open up opportunities.
K.B.: I would add be flexible with your salary. Some people have very high expectations when it comes to this aspect. In The Netherlands, you need to start somewhere and build your way up, you cannot always start at the top. In our activity, we always try to sketch a realistic way of finding work and refrain from making promises we cannot keep.
Locations and directions
The Hague
Unique Multilingual
Fluwelen Burgwal 1 d
2511 CH Den Haag
T: 070 310 27 40
E: thehague@uniquemultilingual.com

Amsterdam
Unique Multilingual
Piet Heinkade 221
1019 HM Amsterdam
E: amsterdam@uniquemultilingual.com

Utrecht
Unique Multilingual
Maliesingel 39
3581 BK Utrecht
E: utrecht@uniquemultilingual.com

Eindhoven
Unique Multilingual
Dr. Holtroplaan 32
E: eindhoven@uniquemultilingual.com

Rotterdam
Unique Multilingual
Lichtenauerlaan 182 (Brainpark II)
E: rotterdam@uniquemultilingual.com
3062 ME Rotterdam
5652 XR Eindhoven
Testimonials
Company profile