Company profile
The BSN Language Centre offers Dutch and English courses for both adults and young learners, in the international community of The Hague. Our team of native-speaker teachers have been providing high quality language teaching since 1985. We teach a wide range of courses including general English and Dutch, business courses, private lessons, preparation for Cambridge FCE and CAE examinations, IELTS preparation and tailor-made In-Company courses from Monday to Saturday1.

Settling into a new community can be quite daunting without the language knowledge needed to communicate with others. We work with you to make this transition as easy as possible for you by providing a friendly, supportive environment in which to meet others in similar circumstances. Our students of all ages, relish the opportunity to practise their language in class and through social and cultural activities.

Many businesses in The Netherlands today have adopted English as their working language reflecting the global business world of the twenty-first century. Furthermore, research shows that (international) career opportunities are enhanced by an employee's knowledge of languages. Being able to communicate in both English and Dutch gives expats the competitive edge they need to further their careers. Our business English and Dutch at the Language Centre and In-Company are designed to help our clients boost their confidence and effectiveness in the workplace. Companies can contact us directly by email or phone to request more information.

For someone seeking a portable career teaching English as an additional language, we also offer teacher training courses. The BSN Language Centre is one of only two CELTA accredited teacher training centres in The Netherlands.
Please drop in on one of our weekly registration days, for a free language level test and personal advice on which course would be best for you!

We look forward to meeting you in person and making you feel at home in The Netherlands.

Our services
September 2014 - July 2015

English Courses:
*Courses for adults
*Courses for children and teenagers
*Business English
*In-company courses
*Private lessons for adults
*Private lessons for children

Dutch Courses:
*Courses for adults
*In-company courses
*Private lessons for adults
*Teacher Training

CELTA Teacher Training:
*Introductory TEFL course

Our story
Our approach
Our team

News
Interview
Locations and directions
The BSN Language Centre is located on a campus with 3 buildings and it is the 3rd building from the A4 – A12 exit. The building has green & grey stripes.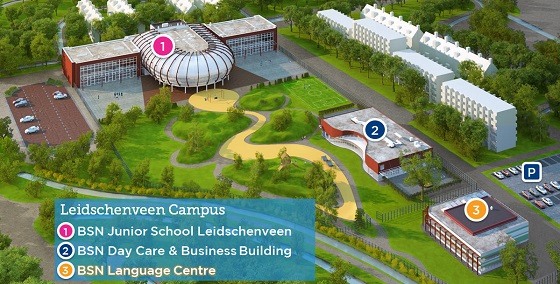 Coming by car
Please note that our address is new and not in all navigation systems.

The easiest way to reach us is to go onto the A4 or A12 and take the Forepark- Leidschenveen (A4) or Nootdorp (A12) exit.

At the second roundabout after the exit, take the first right and you're on the Vrouw Avenweg. You will pass the main school building first, with a parking area on your right. This is not the Language Centre.

Keep following the main road. You pass by a public children's playground on your left hand side and housing on your right hand side. By this time you will see the Language Centre's green and grey striped building and the parking places on your right.

Coming with public transportation
Take the train to Ypenburg Station or the e-metro / tram to Leidschenveen Station. From there it is only a 10 minute walk. It is also easily accessible by bike using the bike paths from Leidschendam or The Hague centre. There is a free shuttle bus in the evenings (runs with a minimum of 4 students).
Testimonials
Sofio Shavgulidze from Georgia took a 10 week study leave from her employer, The Ministry of Defence, to study English at the BSN Language Centre;
"I realised how valuable it is for me to know the internationally important language of English. I already speak Russian, and of course, Georgian, but English is becoming more important. When I studied English in school in Georgia, I learned the vocabulary, and I could read and write quite well, but I was not confident in my speaking...until I came to the BSN Language Centre. Now I can go back to Georgia and do a better job speaking English with the foreigners I meet. This was very good practice for me!"

Lisa Crilly-McKean, BSN parent, took a Dutch course.
"The textbooks are easy to use. You can pop in and out of a subject, and it was quite easy for me to catch up, when I was ill last month. In addition our group discusses everything from recipes, to our children, to telling the time, and I also found the topic of Dutch etiquette to be really helpful".

Students from the English Conversation Cafe said;
" I like to practise my English, while I am drinking cappucino with nice people"
" I enjoy getting to know international people and practising English in a natural way"
" it is fun and I enjoy to meet people from different countries. I can recommend everyone to join one time"
" Great atmosphere and very funny people"


Joy Lambert, on the summer intensive course and NT2 exams:
"When I started the intensive course last summer I found the small class size to be really helpful...it forced me to talk. When that course was done I began the conversation course, which has really improved my confidence in speaking Dutch. But the absolute best part of this journey, was the past month when I passed all five of my inburgeringsexamen! (Dutch integration exams) You have to study, but the BSN Language Centre made it very easy to pass."
Company profile
Address
Address:
Vrouw Avenweg 640