REGIONS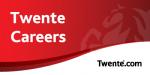 About Twente

Twente is an entrepreneurial high-tech region. It has an innovative network with a powerful technological profile and an international ambition. Its economic agenda is focused on the sector High Tech Systems and Materials (HTSM), which is a sector with plenty opportunities for Twente. It also suits its DNA which has been shaped, traditionally, by the manufacturing industry. Companies, (local) government and educational- and knowledge institutions (Triple helix) are creating an advantage together by seeking connection. The region has a true pioneering mentality. Many start-ups and high-tech applications result in the development of new products and services in Twente. It makes Twente, as a region, attractive for high-tech companies, talented students, ambitious professionals and investors. Both nationally as well as internationally, Twente offers plenty opportunities to excel and contribute to a safe, sustainable and healthy society.

About Twente Branding
The Twente Branding Foundation is the service portal for the domains innovation and human capital in the fields of branding and corporate communication. Her mission is to brand Twente as an entrepreneurial high-tech region with a focus on High Tech Systems and Materials (HTSM). Twente distinguishes itself in the current economic development of the Netherlands as the entrepreneurial technological knowledge region. This profile will enable her to remain competitive and economically healthy.

Activities
The foundation is owner of the brand and therefore responsible for building on, safeguarding and facilitating the brand Twente. It is her duty to load the brand in...