Company profile
Careertrotter is a young, progressive and socially-minded recruitment agency. We may be small right now, but we've got big dreams, big hopes, big hearts, and big ambition!
The Careertrotter Staff is made up of internationally-mixed individuals, not unlike yourselves. From different areas of the E.U., we have studied abroad in Europe or beyond and worked abroad in Europe. We are living our dreams of living and working abroad, and want to help others do the same.

We'd like to think that in five years' time we'll be seriously competing with some of the largest recruiting companies. How are we gonna get there?

Simple: Work hard, trot hard.

We like to roll up our sleeves, buckle down, and get things done.

We like to use a lot of Social Media advertising like Facebook or Twitter. We like to be active on certain forums, and be there for the long run. In addition to using all this new millennium, high-tech stuff, we value just having a good old fashioned chat with folks.

We want jobseekers to come back to Careertrotter whenever they need career advice, or want to make a change, or simply just to say 'Hi!' We want them to tell their friends about us, saying, "You want work in Berlin? Check out Careertrotter. You're in good hands with them." We want 1 in every 3 jobseekers to come to us based on referral. We want Careertrotter to be the first choice.

Careertrotter; You do the Globetrotting, We manage your Career!
Our services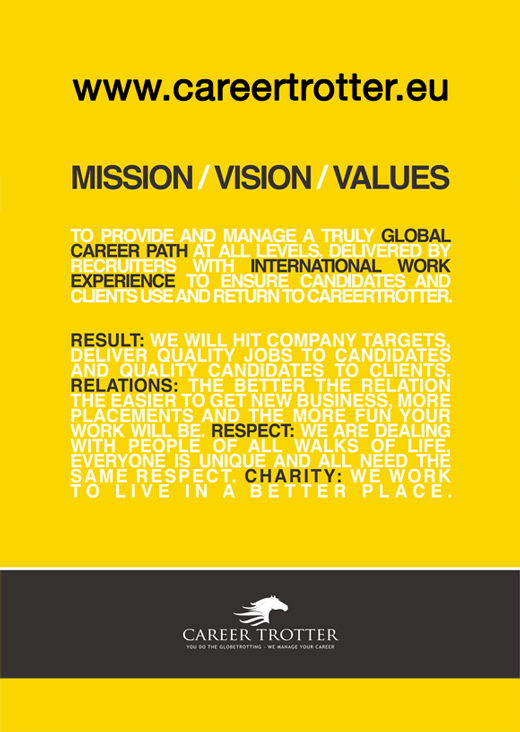 Our story
Our approach
Our team
News
Interview
Locations and directions
Testimonials
Company profile